Traditional Embroidery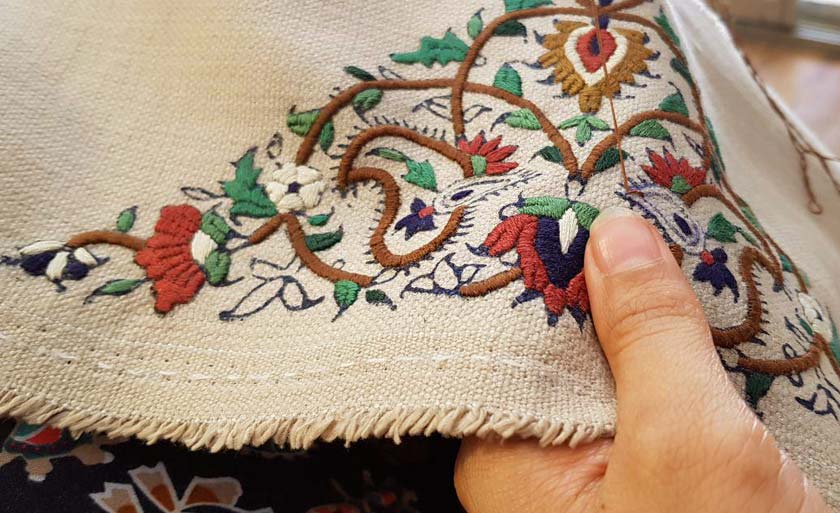 Embroidery is an art of decorating cloth with needlework using different types of threats to create fascinating designs. Embroidery can also be defined as an art of using stitches as an adorning feature by embellishing fabric or other material with designs, stitches in strands of threads on yarn using a needle. Embroidery may also include other materials like pearls, beads, sequins, etc. Embroidery is a craft of enhancing fabric with motifs, abstract design, patterns. Embroidery varies according to its underlying foundation fabric and whether the design is stitched on the top or through the base fabric.

Indian embroidery includes a wide variety of regional embroidery styles varying by different regions and materials used. Embroidery is India's persistent eloquent tradition. Every state and region in India enjoys its own style. Needlework is not the only means of decorating the fabric but the fabrics are also embellished by stories of the community, with motifs emerging from natural surroundings, religious inscriptions, economic state, etc.

Kashida is a popular Kashmiri embroidery encouraged by the beautiful surroundings of the valley. This type of embroidery style is practiced by men in the region. In the 15th century, the Sultan- Zain-ul-Abidin introduced the art of Kashidakari. Weavers were brought from Turkistan and Persia to introduce new styles of weaving techniques. This type of embroidery is very popular because of its color texture design and techniques. The motifs in Kashida are inspired by nature including both flora and fauna of Kashmir. The most common themes of Kashida embroidery are birds like Kingfisher, butterflies; fruits and vegetables like mango, almonds, cherry, grapes; and flowers like lotus, blossoms, creepers, maple leaves. The best material for the embroidery is wool, Cotswold, or silk wool and Cotton. Embroidery is often evident on shades of white and light shades and sometimes they are also on pastel colors but nowadays they are using a variety of colors like blue, yellow, purple, red, green, black. Kashida embroidery is particularly practiced by men and is a commercial craft revealed on shawls as well as in cottage industries of Srinagar. The stitches used in Kashida embroidery includes Satin Stitch, Chain Stitch, Stem Stitch, Talibar, Vatachik, Darning Stitch. Embroidery is performed using cotton, silk, wool, and artificial silk threads of white, green, yellow, purple, blue, black, crimson, and scarlet colors.

The fascinating feature of the embroidery is that it is made of single thread offering a flat appearance to the design. This embroidery enhances the grace of Kashmiri shawl, saris, and other dress materials.