Dialysis Technician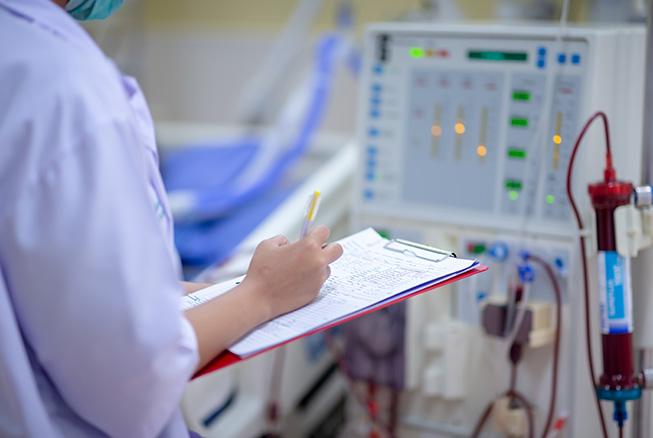 Dialysis technicians work in hospitals and clinical environments to assist patients in need of dialysis procedures; these patients often have failing kidneys and/or kidney diseases and need their blood cleaned because their body cannot do it for them. These technicians evaluate patients prior to the dialysis being carried out; this includes taking blood pressure, weight, temperature, and pulse. The dialysis equipment must also be tested and routine maintenance must be carried out to ensure proper functioning.

As dialysis procedures are carried out, these technicians must monitor the machines to ensure they are working properly, and the patient to ensure that the procedure is going smoothly. They also administer necessary medicines according to direction and policies and maintain records in order to accurately document all treatments.

A high school diploma is usually a minimum requirement for this position, and certification as a dialysis technician is often required, which can be obtained by taking a course and then a test. Some institutions do offer positions to those who will obtain certification after being hired. The ability to walk and stand for long periods of time is important, and those in this position should also be able to bend and stoop easily. The ability to lift heavy items is also important to assist patients who have trouble getting up, standing, and walking on their own.

Dialysis Technician Tasks
* Operate dialysis machines to treat patients who have kidney or renal failure.
* Prepare patients physically for dialysis and explain dialysis equipment and procedures.
* Monitor dialysis procedure to ensure patient safety and that equipment is operating properly.